Benefits of A Dust Collector
 Improved Air Quality: Dust collectors significantly enhance air quality in and around concrete plants, contributing to a cleaner and safer environment.
 Reduced Maintenance Costs: By preventing dust from reaching critical equipment, dust collectors can extend the lifespan of machinery and reduce maintenance expenses.
 Regulatory Compliance: Dust collectors help concrete plants comply with environmental regulations, avoiding potential fines and legal issues.
 Enhanced Worker Safety: Cleaner air and reduced exposure to airborne dust benefit the health and safety of plant personnel.
Summary
A concrete plant dust collector is a vital component in the concrete production process, designed to capture and control dust and particulate matter, protect equipment, and ensure compliance with environmental regulations. It plays a critical role in maintaining air quality and safety, both within the facility and in the surrounding community.
DUST COLLECTOR SPECIFICATIONS
Total Filtration Area
330 Ft.²
Air To Cloth Ratio ( ACFM / Ft.² )
4.8
Pressure Drop
6"
Air Capacity
1600
Outlet Area ( Ft.² )
0.83
Cleaning Method
Pulse Jet
Inlet Dust Concentration at 15 Gm./ Ft.³
25,000
Outlet Emissions ( Gm./ Min. )
2.50
Outlet Dust Loading ( Gm./ Ft.³ )
.0015
Air Consumption
8 CFM
Solenoids
120/60 ASCO Power Pulse Valve (Qty:3)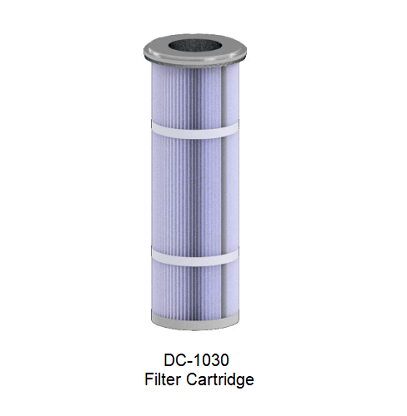 FILTER CARTRIDGE SPECIFICATIONS
Dimensions
11.09" O.D. x 5.75" I.D. x 30" Tall
Top End Cap
G60 Galvanized-Open with 11″ Flange
Bottom End Cap
G60 Galvanized-Closed
Gasket
5/8" Height x 10" I.D., Neoprene
Outline Retainer
Retainer Bands
Inner Core
Galvanized Expanded Metal 72% Open
Filter Area
55 Ft.²
Fiber
100% Spun Bond Polyester
Material Weight
8 oz. / Yd.²
Permeability
24 CFM
Mullen Burst Dry
388 PSI
Temperature Limit
275 Degrees Fahrenheit
Efficiency
99.99%
• Hose and Fittings to Plumb Plant
OPERATION RECOMMENDATIONS: Supply unit with 100 PSI air pressure and 110 volt or 12 volt power. Turn on Unit when filling cycle begins and operate continuously through 20 minutes after filling cycle completes.